Dune is a decorative and very resistant wall covering to be applied in two coats with a paint roller:
One priming coat with embossed look to be applied with the paint roller.
A multicolour satin finish gel to be applied 24 hours after drying of the priming coat.
Dune's colour chart consists of 30 priming tints and 7 multicolour mixtures that give 210 possibilities of interior finishing.
Dune can also be delivered in white to be tinted by any tinting system whatever.
Caracteristics
Very resistant
Easy to use, washable
Odourless, solventless
No jointsUtensils can be cleaned in waterApplication
Application of the dappled primer :
Upon correctly prepared bases (Mineral Prim is recommended) apply a generous and even "Dune" embossed primer with a long hair paint roller at 350 g/m², then before drying with a honeycomb continue rolling starting from above to below to obtain the desired embossed effect. Let it dry for 24 hours before applying the second coat.
Tips :
In order to avoid any repetition, apply generously and evenly in section of 1 m2 to 2 m² before creating the pattern with the honeycomb roller.
Preparation of the mixture:
Every package contains a quantity of flakes. Gradually mix the flakes with the gel until a nice smooth mixture is obtained.
Do not use an electric mixer.
Application of the multicoloured gel :
Dip the medium hair paint roller in the gel, then drain it over a paint grid to avoid excessive uptake and transfer the pattern to the wall, then roll out the gel (just as a varnish) to obtain a nice even finish.
For highlighting the pattern, use a paintbrush for an even distribution of the flakes.
Tips :
Check from time to time a good distribution by moving back a little. If is not homogeneous, wipe off excessive residues with a damp sponge.
Work in panels of 1m2 to 2 m².





Tint examples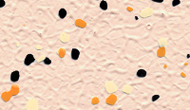 950 + MC 20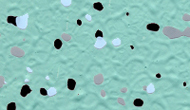 964 + MC 26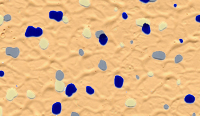 953 + MC 21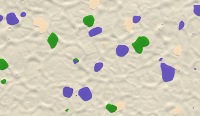 955 + MC 22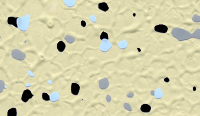 957 + MC 26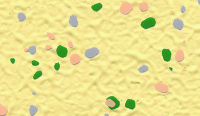 959 + MC 23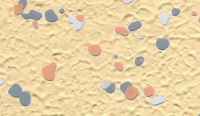 960 + MC 24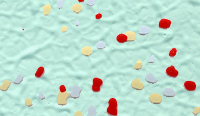 962 + MC 25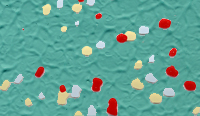 965 + MC 25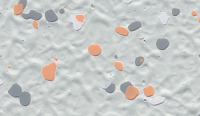 966 + MC 24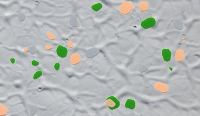 968 + MC 23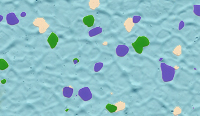 970 + MC 22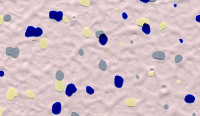 974 + MC 21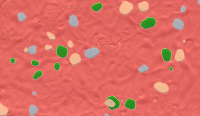 976 + MC 23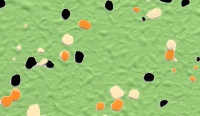 977 + MC 20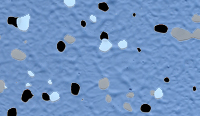 978 + MC 26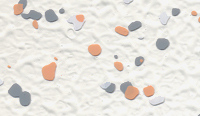 979 + MC 24